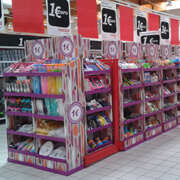 Exhibitors settings
We have a wide range of exhibitors with attractive designs adapted for sale P.V.P. 1 and 2 euros, we can offer in two ways: exhibitor and merchandise separately.
The customer assembles and configures your taste, or the most interesting and comfortable, the exhibitor is served mounted on a pallet and the goods loaded and placed.
This last option is the most convenient and advantageous, since the client only has to download, install and everything ready for sale. storage space, installation time and replacement, etc...
Saving can offer different combinations of items to fill exhibitors or the customer chooses items from our catalog that incorporates.
---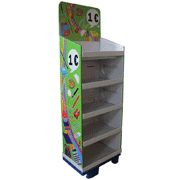 Different types and designs Box and Exhibitors
We differentiate ourselves from the competition by providing a wide variety of designs for pallet box, exhibitors and covers, commensurate with the type and characteristics of products to offer.
All finishes have great visual impact, easy to locate and are attractive for the end customer.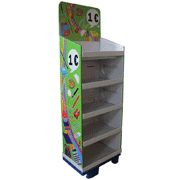 ---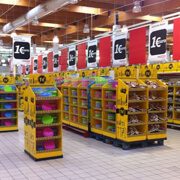 Variety of products
Market Suprem has more than five thousand products in constant rotation.
Some of the categories are organized Stationery, Household, DIY, toys, home decor and items in general. We also prepare campaigns summer, Christmas and back to school.
Once acquired exhibitors can order replacement may change product each time and thus have different compositions.